Duodenojejunal
Bypass-Metabolic
procedure

One Anastomosis
Gastric Bypass

Endoscopic Sleeve
Gastroplasty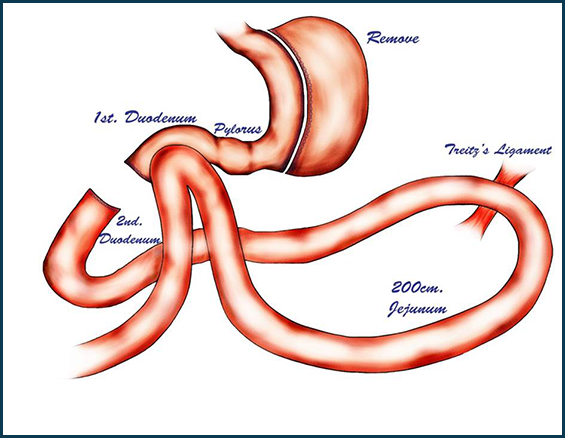 Duodenojejunal Bypass- Metabolic procedure
Duodenojejunal bypass (DJB) is a novel metabolic surgery based on the foregut hypothesis. The stomach size is reduced according to the patient's weight, in addition, the first part of the small intestine along with 200 cm of the jejunum are bypassed in a rerouting operation. In this surgery 1st, part of the duodenum is joined with the bypassed portion of the jejunum. This operation has the obvious advantages of Roux-en-Y Gastric Bypass and does not cause significant weight loss and dumping.
This operation has a similar hormonal mechanism to ileal interposition. After this operation ghrelin levels come down as the fundus of the stomach is removed. GLP 1 and Peptide YY hormones increase as the food rapidly reaches the small intestine.
Read More
Calculate Your BMI(Body Mass Index)
---
Dr.Randeep Wadhawan – Best Bariatric Surgeon in Delhi.
Dr.Randeep Wadhawan offers a comprehensive treatment plan to achieve weight-loss over a time frame of 1 to 2 years and helps the treated individuals to have improved quality of life and health. Bariatric surgery can be effective to resolve obesity accompanying morbidities like high blood pressure, sleep apnoea, asthma, breathing disorders, and many more. Among the best weight loss centers in Delhi, Dr.Randeep Wadhawan tops the list by providing comprehensive care from pre-surgery counseling to personalized weight loss surgery solutions with a post-surgery rehabilitation program. Also, the best of our bariatric surgeon's counsel and help the individuals planning to improve their weight with minimum medications and best lifestyle management programs.
Based on the individual's medical history and desired weight loss goals, one of the minimally invasive bariatric & metabolic surgeries is chosen that best suits medical history, dietary practices, comorbidities, fitness for procedures, and adherence to post-surgery lifestyle & dietary management regimens. Moreover, the best of our bariatric surgery specialists thoroughly evaluate the individual's health suggest lifestyle modification, dietary restrictions, and also medical therapy as part of preparations for bariatric surgery. The weight-loss surgical procedures are offered by highly experienced surgeons who gained decades of expertise and are considered the best bariatric surgery specialist in Delhi.
To summarise, Dr.Randeep Wadhawan has been well talked about for its most effective bariatric and metabolic surgery offerings and therefore being considered now as the best hospital for weight loss or bariatric surgeries in Delhi.
Laparoscopic Gastric Bypass / Roux-en-Y gastric bypass.
Individuals who are morbidly obese are the candidates for Gastric Bypass Surgery. A total of 10 to 15% of the stomach is retained as a small pouch and connected to the small intestine laparoscopically. Through this mode of surgery, patients are expected to lose ~80% of their excess body weigh in the first year after the surgery and offers either complete resolution or improvement in conditions such as Diabetes, Hypertension, Obstructive sleep apnoea, and Abnormal cholesterol levels
Dr.Randeep Wadhawan is one of the best bariatric Surgeons in Delhi, and we take our customer queries very seriously. To know more about the cost of treatment for the various procedures, please contact us at [email protected]